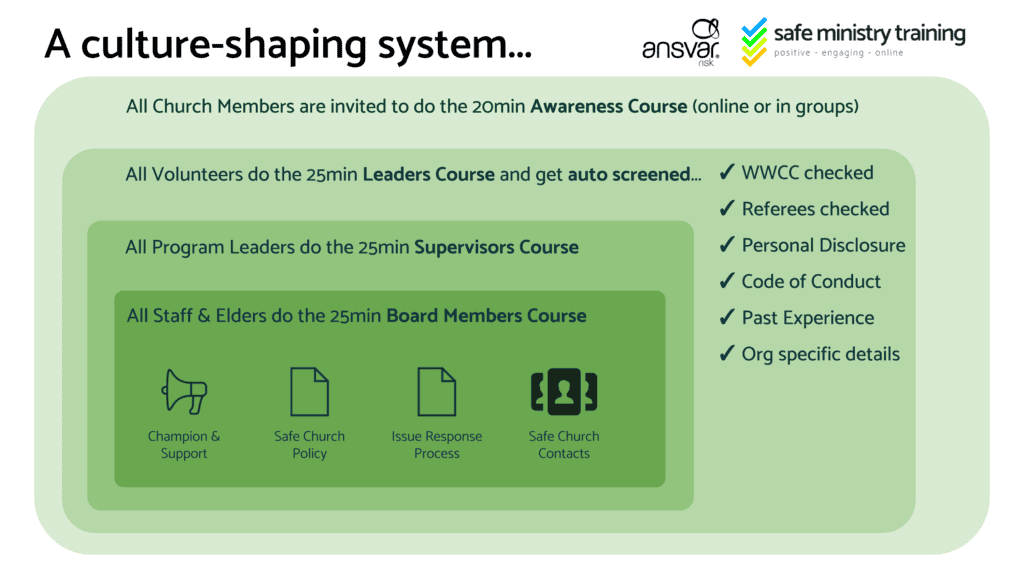 The Safe Ministry Training system isn't just about checking boxes… it's about shaping cultures.
What type of culture do we want in our churches? What type of culture is 'safe'? It's where everyone – from the program participants to the senior leaders – all care about vulnerable people. It's not a set of rules… its a way of life.
That's why the Safe Ministry Training system is designed for different people in your ministry organisation. Each type of person in your ministry has a different responsibility and role in safeguarding vulnerable people.
So your Board Members and Senior Staff need to understand the organisation responsibilities. The people who are responsible for your programs have responsibilities about the environment and how they manage and recruit into their teams. Your volunteer leaders need to know how to respond to people's concerns and report issues when they see them; and they need to be screened in multiple ways. And your members… they need to know that your ministry values the safety and care of vulnerable people and that they should report any concerns they have too.
One more thing… if we're going to get people to sit through some training, we want them to love it. We want them to get to the end of it and think, "Gee I'm glad I did that. I'm glad my church is doing this… I'm going to play my part."
That's why we've made all these courses are designed to be engaging, online, and as short as possible!