There have been two regular feature requests that have come up over the past 12 months. And we're excited to announce a two-birds/one-stone improvement!
First, several churches have asked for some way to deal with trainees who sign into their training with slightly different details… e.g. "David" signs in with "Dave", "Elizabeth" signs in with "Liz". Up until now, that would create a whole new person on your organisation account – probably a duplicate. And, if they've already done some training courses, it would appear to them that they haven't done any.
The second request has been around people who are only meant to be "Members" being able to see all the courses, and going through all of them! While that's not a bad thing for your church culture (to have people who better understand all the roles and responsibilities for people at various levels of safeguarding vulnerable people), it does mean that some people might spend longer in the courses than you might have told them to expect.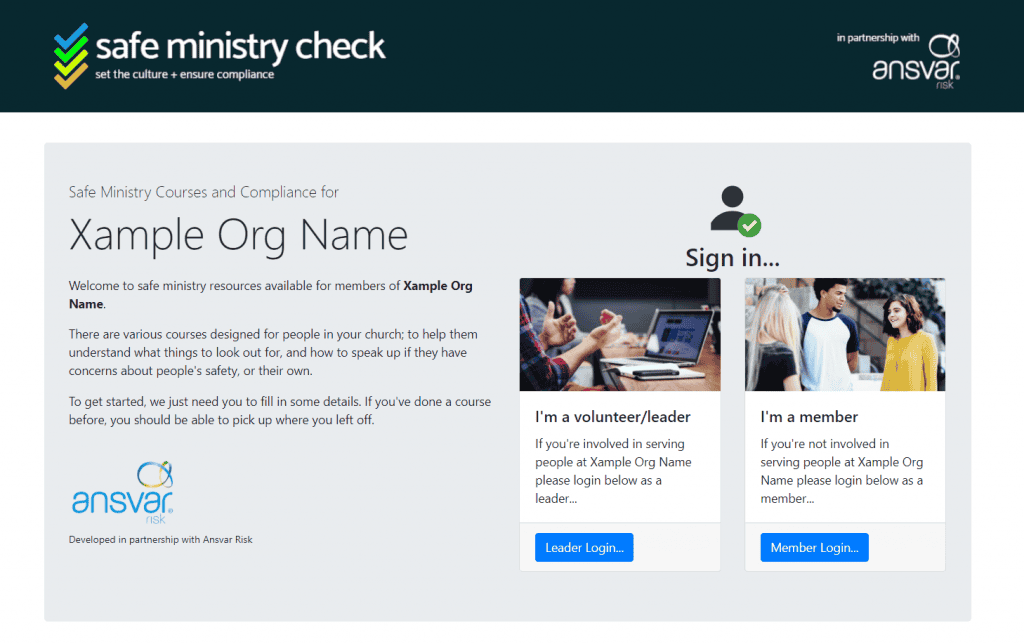 So, as of Friday just gone, we've pushed out a new Trainee Sign-In page where your people are presented with two options…
I'm a volunteer/leader
If you're involved in serving people at your church/ministry please login below as a leader…
I'm a member
If you're not involved in serving people at your church/ministry please login below as a member…
This helps you communicate to your people what option they should choose.
Users will then see a pop-up login box… (We've updated the 'date of birth' field to be easier to use too!)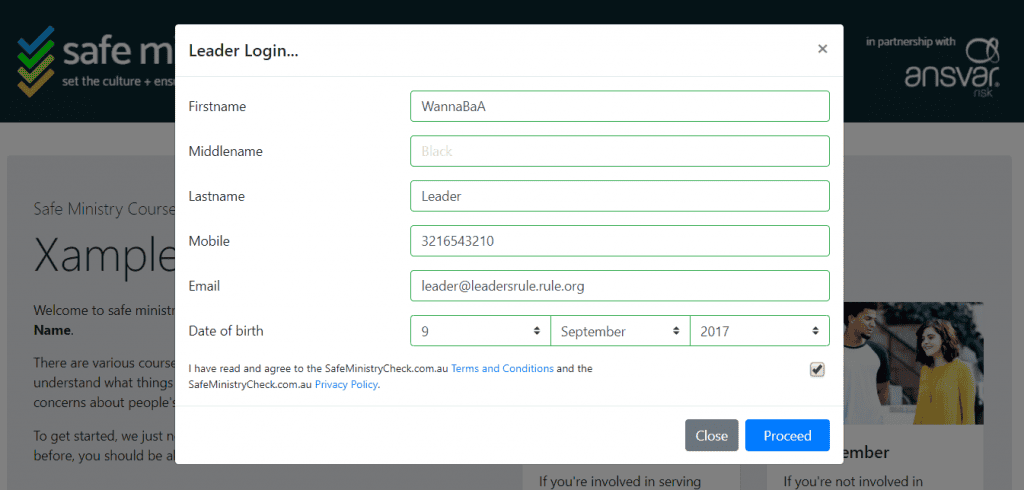 If they happen to enter a detail slightly different to what they meant to, or they might have used their nick-name instead, a new pop-up window appears asking them if they meant to sign-in as someone who's details are already on the system…

From here, the user can identify themselves as the user already in the system (click "Use these"), or they can identify themselves as a new person (click "This is correct"). Or if they want to edit their details again, they can do that from here too.
We hope this helps reduce the number of duplicate trainees in church accounts and makes it easier for people to know which training they're meant to do.
Coming soon… New Course Selection Page…
We're just about to release a new Course Selection page for churches on the new plans that give your people much more direction around what courses they need to do, and the ability to update their screening details right there in the page!