If people have already done prior training, they are able to indicate this and go through their screening process rather than do their training and the screening process. But once the screening process is complete, the Safe Ministry Check Administrator will need to confirm whether they deem the training information provided to be acceptable. Here's how to do it.
For those who have already done training, when they log in, there'll be an option that looks like this: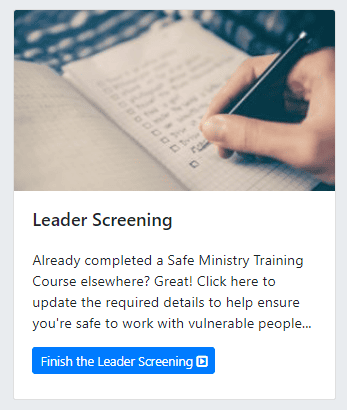 In this process, they'll be asked for the name of their training, when it was completed, and they'll also be asked all of the screening questions. Once they've gone through that process, you'll need to find them on the trainee list, click on their name, go to the Course Progress tab (the button to find this is located on the left hand side of the screen). Here, it will have an option to approve their prior training. It's up to your church to determine whether their training is acceptable or not. We don't have any policy on it, as we find that different churches, denominations, and insurance providers have different requirements, so really, it's up to you.