In case you missed the big announcement, we have now integrated Police Checks into the Safe Ministry Check system – volunteer and employee checks. We have partnered with checked.com.au and we're confident that this partnership will make it that much easier for you to get people screened.
Here's how to set it up:
Under Settings > Auto Screening Options, you can now scroll down to 'Police Check Screening Options'. Here you can select who is required to complete the check and how long it will remain valid (12, 24, or 36 months).

Selecting 'No auto Police Checks (but still available)' means that the system will not require any trainee to complete a Police Check in order to be cleared, but you can still manually invite trainees to complete a check. 
You can manually invite a trainee to complete a Police Check by going to their profile and selecting 'Other Checks' in the menu bar on the left hand side.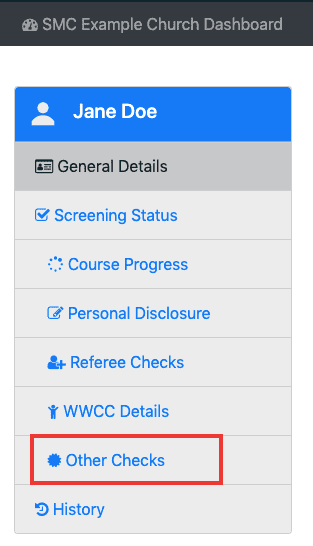 On this page you can manually invite the trainee to complete a check by selecting 'Email Police Check Invite'.

The trainee will then be sent an email inviting them to complete a Police Check through checked.com.au. From this page you will also be able to view the Police Check result.
We hope this makes it even easier for you to ensure your volunteers and employees are screened and safe to work with vulnerable people. We'd love to hear your feedback, just shoot us an email at support@safeministrycheck.com.au