Elvanto syncing is one of the great features of Safe Ministry Check. This guide will take you through the What's and Why's of Elvanto syncing. If you require further assistance, please feel free to reach out to the Safe Ministry Check team.
Elvanto isn't a requirement for the Safe Ministry Check system. If you don't use Elvanto as your church management software, there's no need to start. If you do use Elvanto as your church management software, syncing is a great way to make administration simpler.
1. Preparation
To make sure Elvanto syncing works correctly, and that the right data is moving between to two platforms, you need to set up some custom fields.
Start by logging into your Elvanto account. You'll need to have all editing and access privileges to set up Elvanto syncing. On your Elvanto profiles, you're going to need the following custom fields. On a person's profile, they should look like this.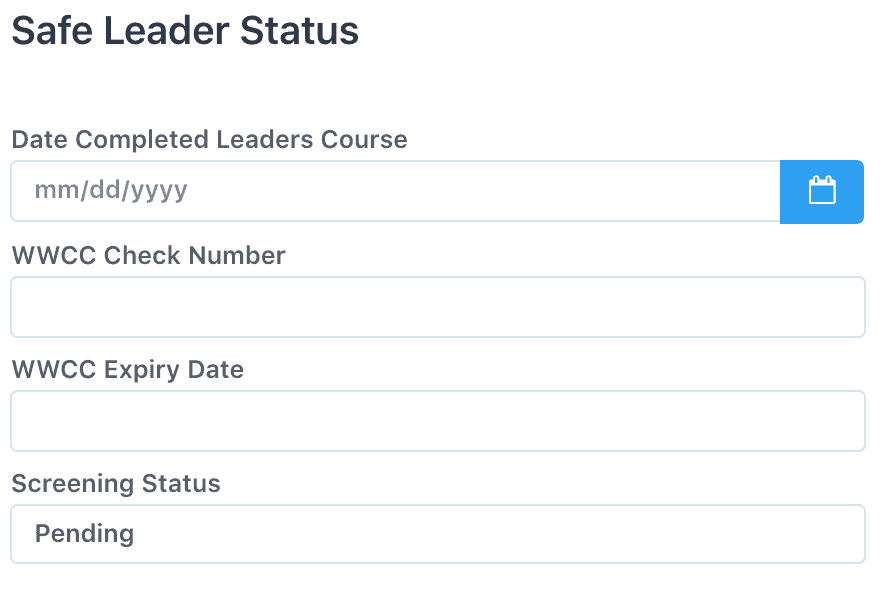 To create these custom fields, click on "People" and then "Categories" from the side menu.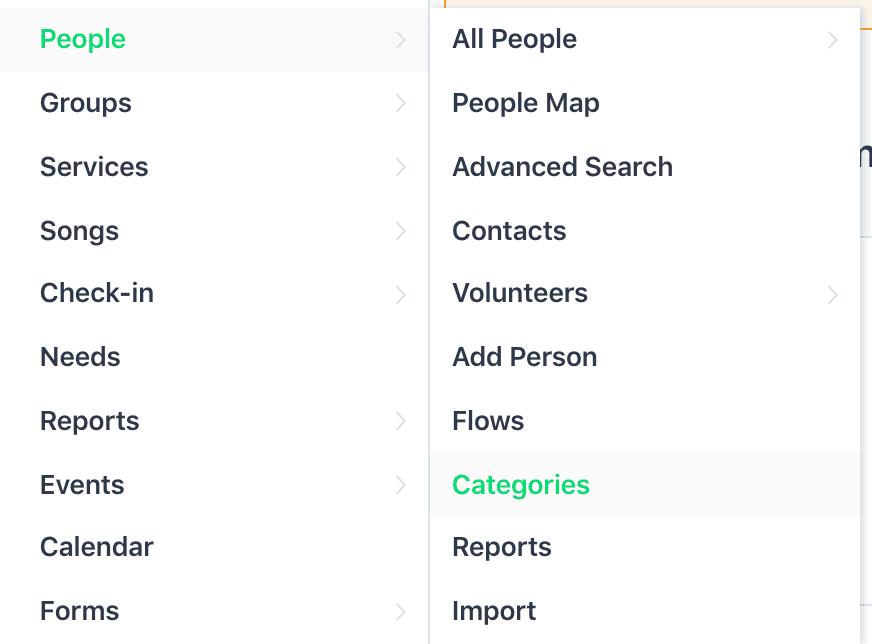 You'll then need to click on your main category of people, usually labeled as "Congregation".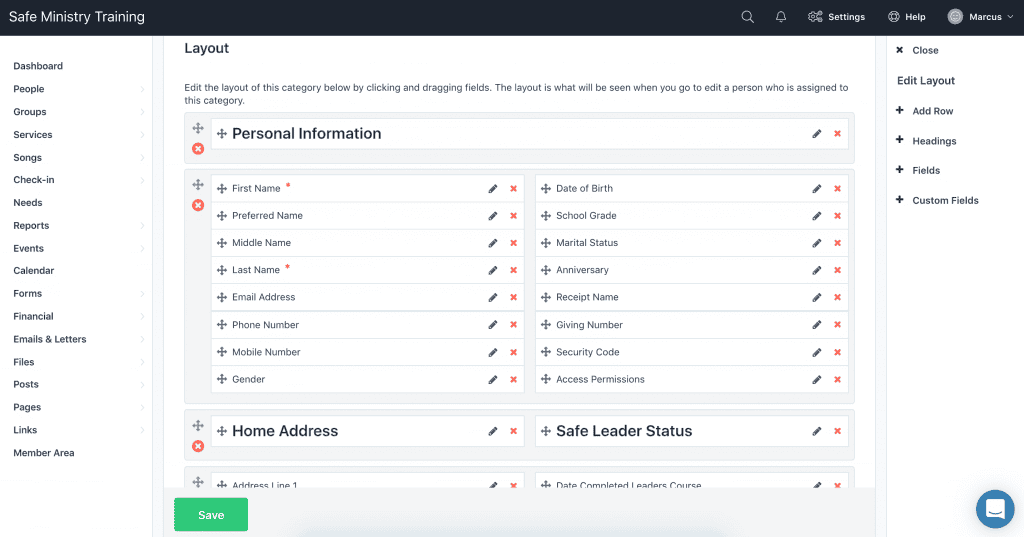 Along the right hand side of the screen, you'll find the options for what you can choose to add to everyone's Elvanto profile. The custom fields button will allow you to create the fields required for Safe Ministry Check Elvanto syncing.
Your SMC custom fields should look like this: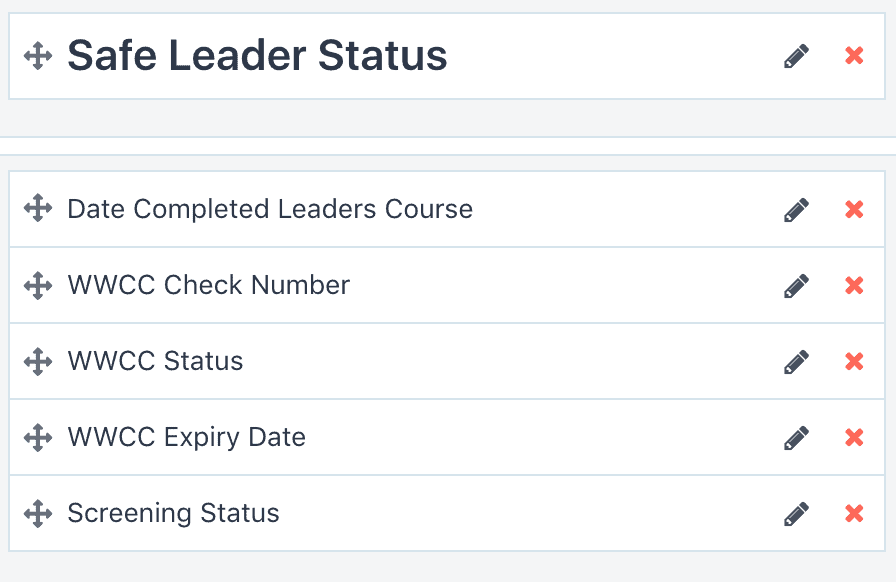 Once you've clicked Save, you're ready to move onto the next aspect of preparation for Elvanto Syncing.
Safe Ministry Check uses groups to determine which level of training and screening each person will require as they are imported and sync'd with Elvanto. To create groups in Elvanto, you need to hover over "Groups" in the Left hand menu, and click on Add Group from the pop up menu.
You will need one group for each level of Safe Ministry Check training and screening.

Once these groups are created, place people into them at the appropriate level. People only need to be in one group. They'll do all the appropriate training and screening for their level being in one group.
2. Creating the Link
Now that you've done the preparation, it's time to set up your link between Elvanto and Safe Ministry Check.
Start by clicking on settings in Elvanto and finding the Integrations section. Once you've clicked on "Integrations" you should see a green "Add" button in the top right corner which you should click on.
All of the possible integrations will pop up. Select Safe Ministry Training.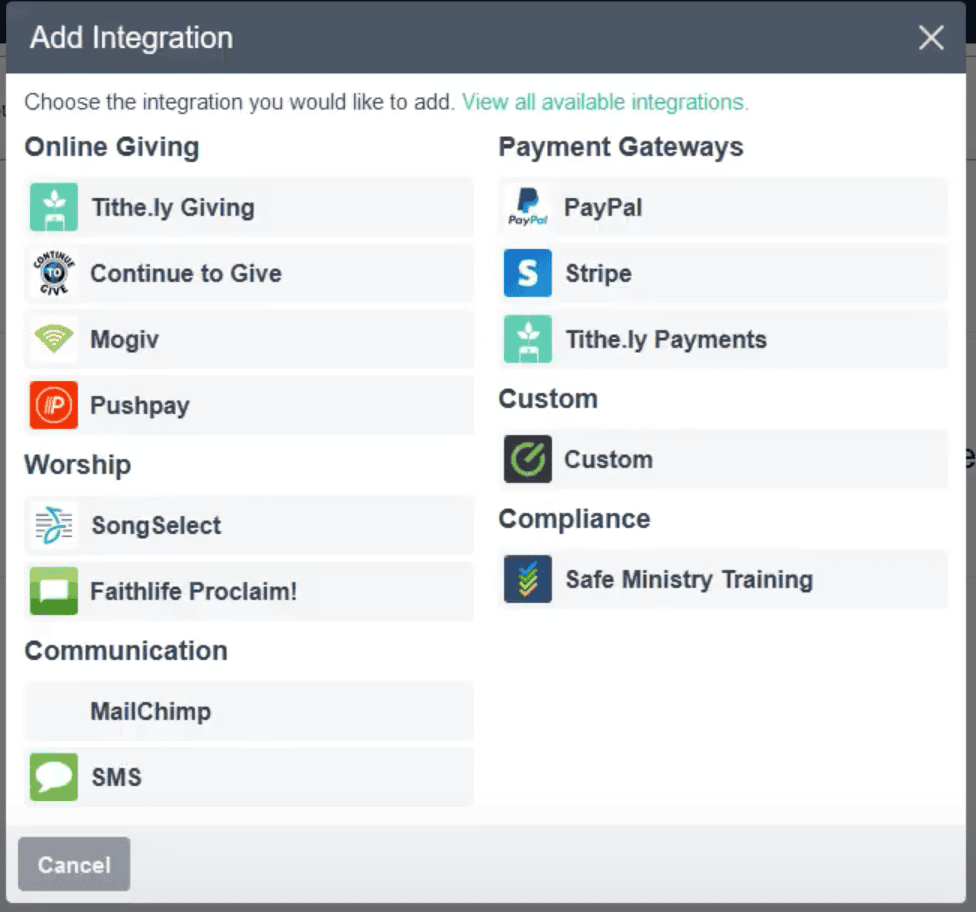 After you've selected Safe Ministry Training, you'll need to click on the green text of the following box.
This will open a log in page for Safe Ministry Check. Using your Admin log in details, log into your Safe Ministry Check account. This should bring up an Elvanto Log In Page.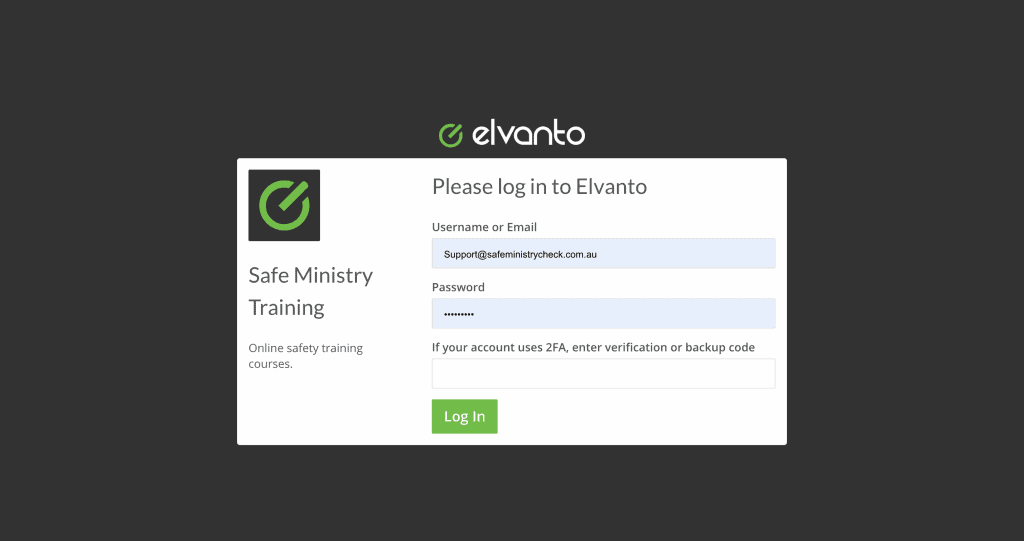 Once you enter your log in details, you'll be brought to the confirmation screen. Click the green button here.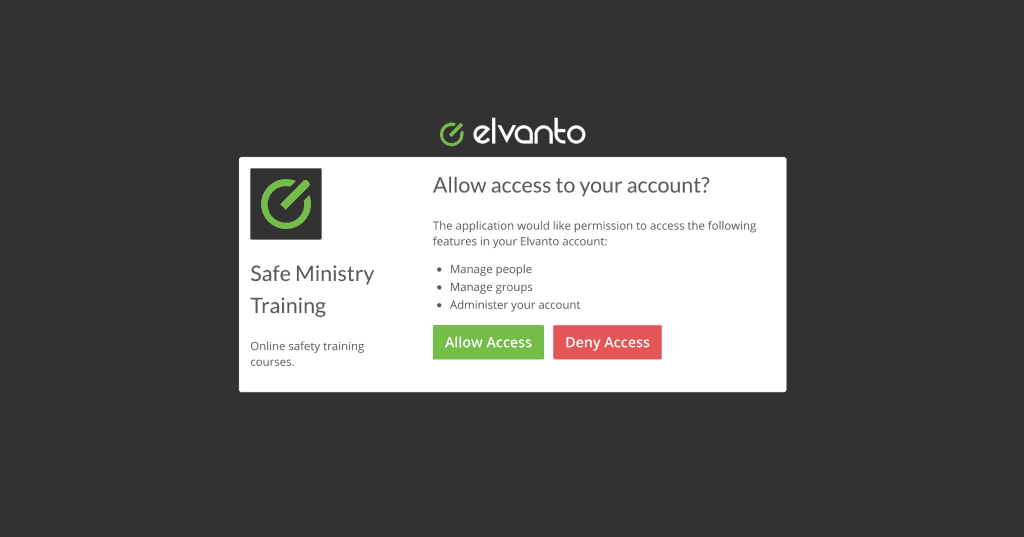 Now your link should be set up, and you'll see this screen.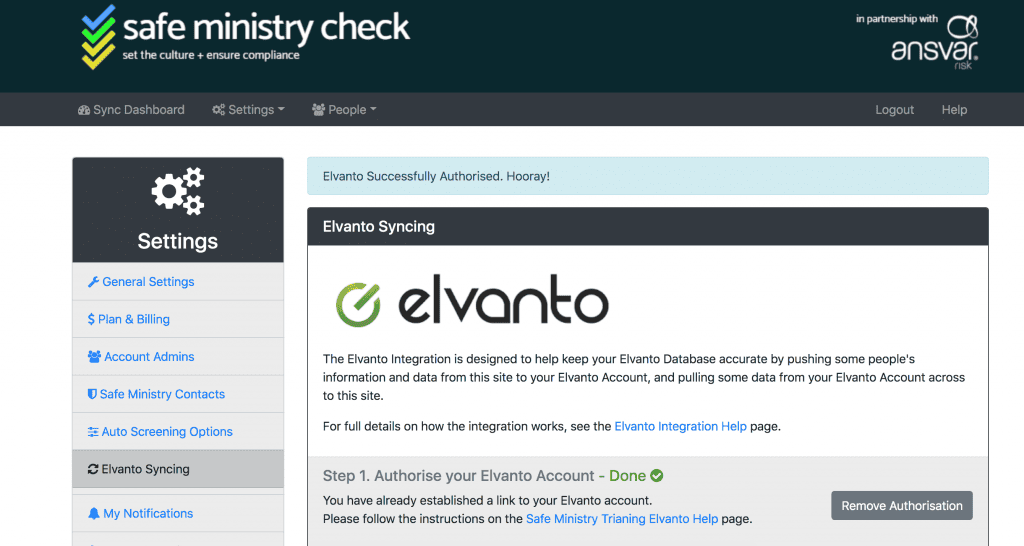 You're now ready for part 3: Linking groups and custom fields.
3. Syncing Groups and Fields
At this stage of the process, we're going to determine what people and what information will sync between Elvanto and Safe Ministry Check.
Going to the Elvanto Syncing page under settings, you'll now see these drop down boxes.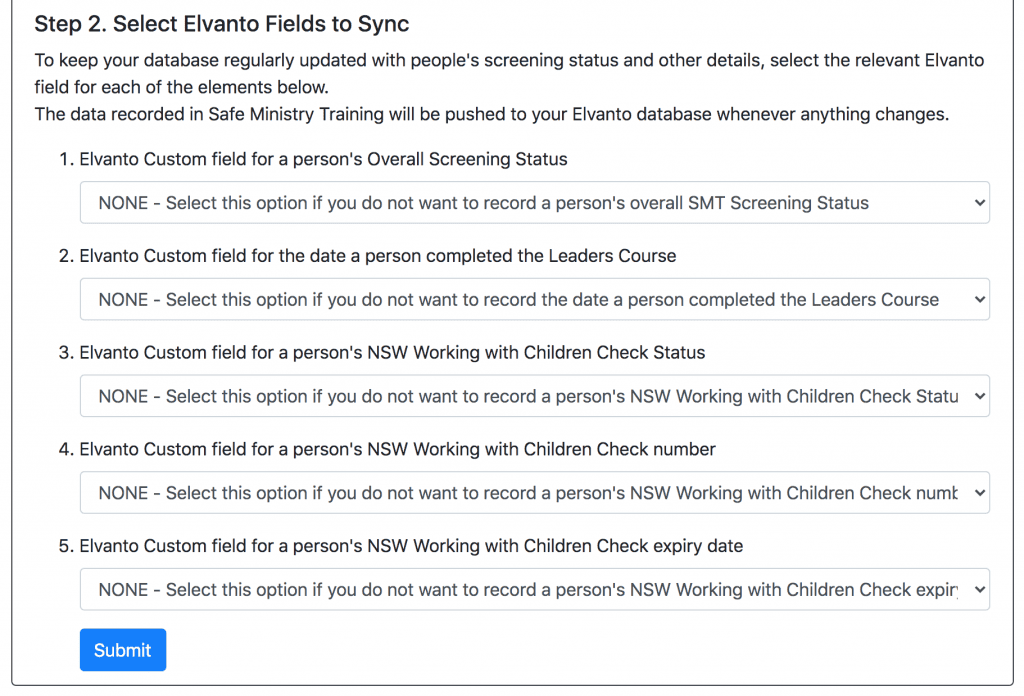 These are the things that will link to the custom fields you set up in Elvanto earlier. You don't need to have all 5 linked, but you'll need at least one set up to move on to the next step.
Once you've chosen the custom fields, it should look like this: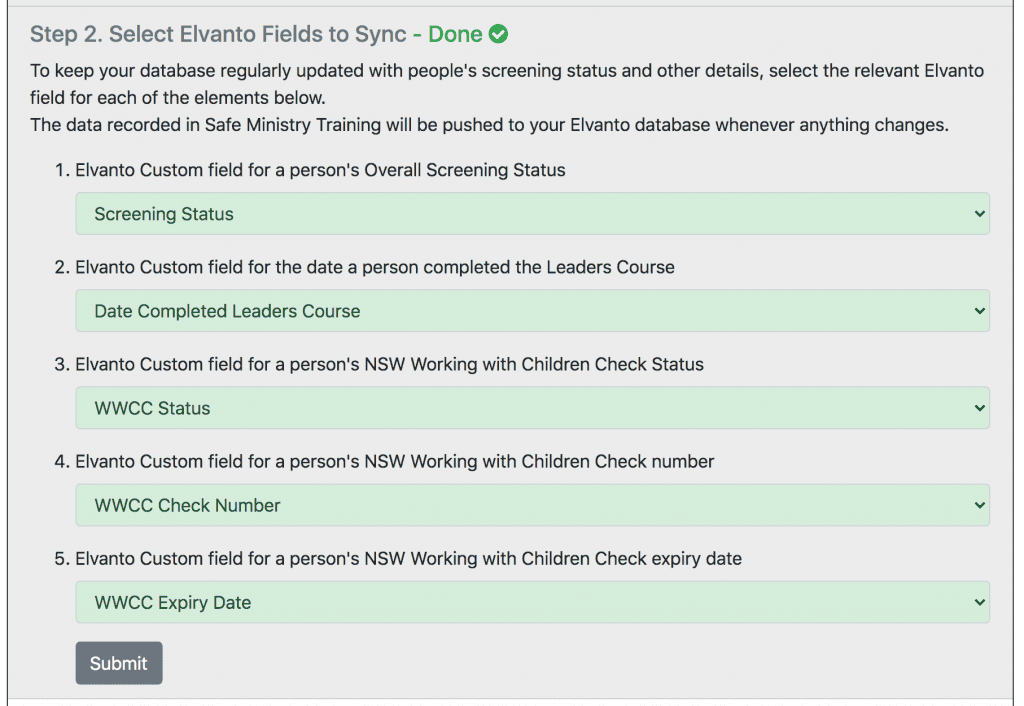 Next, we're going to choose which groups are going to sync with which level of leadership. You should see the following on your Elvanto Syncing page.

Once again, you'll click on the drop down box to pick which group will allocate to which level of leadership. Here's what ours looks like from the groups we made earlier.

4. Creating Profiles
Once you've set up your syncing fields and groups, you're ready to create Safe Ministry Check profiles for each person in those groups.
Start by making your way to the "Elvanto Matching" screen, found under the "People" menu up the top of the dashboard.
You'll then see a page like this: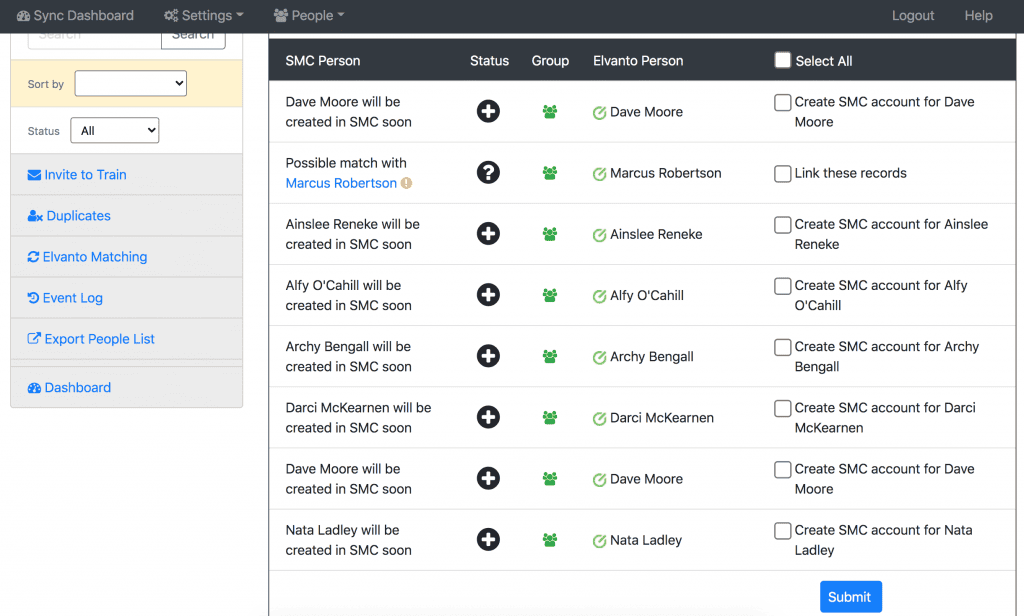 Click select all up the top right corner of the table and click submit. Your table should now look like this: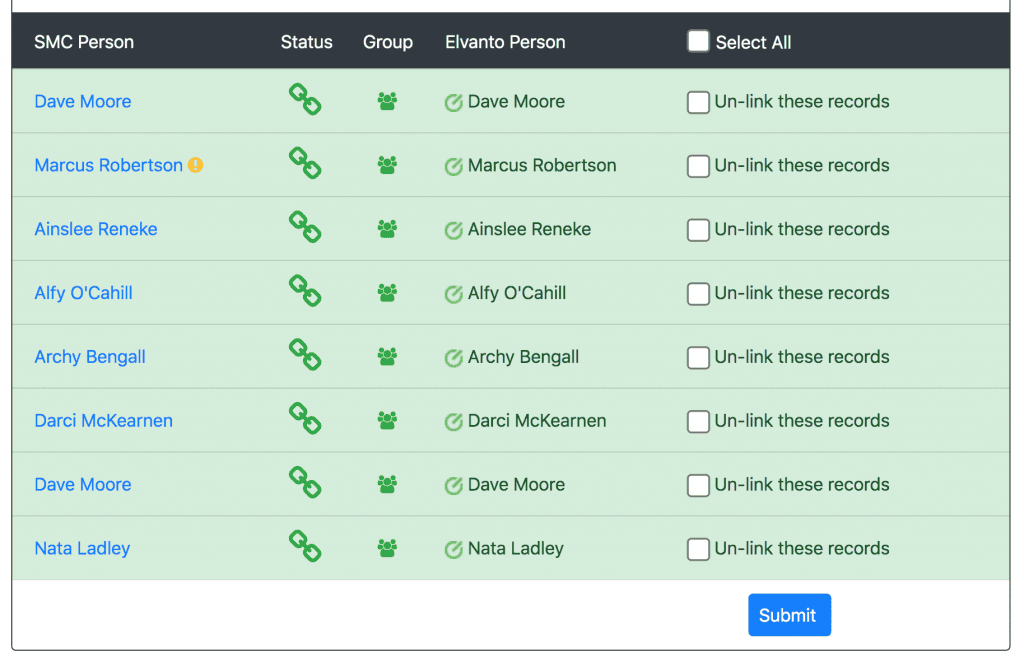 You've now set up elvanto profiles for each person in those groups. If you add new people to those groups later on, you'll need to go back to the elvnato matching page, and create their profile for them by clicking their individual box in the right column.
If you require any assistance with setting up your Elvanto Syncing, please do not hesitate to contact the Safe Ministry Check team.