Well it's been a busy couple of months here at Safe Ministry Check! February was our biggest month for training with over 2300 training courses completed, and August has been our biggest month for new sign ups with 18 new churches coming on board so far!
Not only so, but with COVID-19 is increasing in Australia, particularly in NSW, churches are going back into lockdown and trying to remember their Zoom passwords. Well here at Safe Ministry Check, we're still powering on! We're praying that God will keep growing his kingdom during this time and we're thankful for a God who is constant in an ever-changing world.
This month, we've got exciting news to share! There have been a few updates around here and we're really excited to see how these help us better partner with churches so they can get back to doing ministry.
New Look
The first big update you might have noticed is our website got a facelift! This is still in progress, so bear with us, but we hope the facelift makes it easier to find what you're looking for and easier for those visiting our website to know what we're on about. We're keen to keep improving the usability of our website, so if you have any feedback we'd love to hear from you.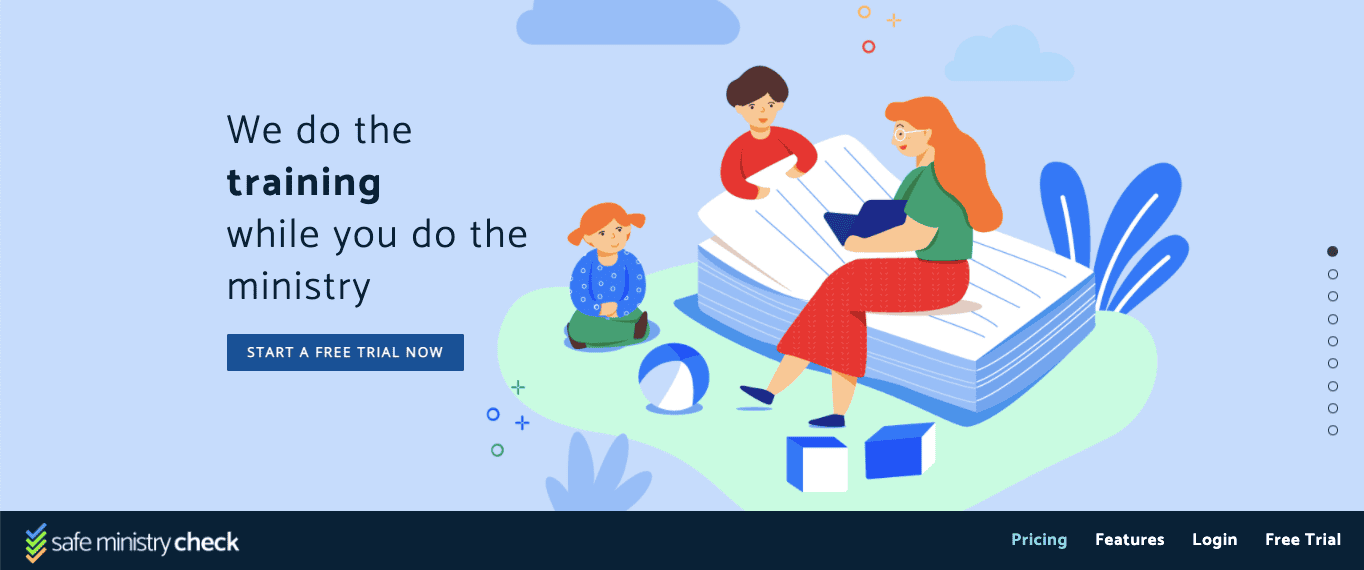 Integrated Police Checks
The second big update is the complete integration of Police Checks – volunteer and employee. We have partnered with checked.com.au to bring you fully integrated Police Checks. Click here for a guide to using our Police Check integration. 

Additional Referee Options
The third big update is an addition to our referee check system. In your Auto-Screening Options, you now have two different options for referee checking. You can still use the one-click referee option, where an email is sent to the referee and they can click 'Yes, I can confirm all the above' or 'Not entirely. There is an issue/I have some concerns'.
The second, and brand new option is a web-form easy response. The idea behind this is to give admins more information about why the referee has concerns and minimise the amount of go-between needed between admins and referees. The web-form easy response confirms the referees details with four questions and follows these with three character reference questions.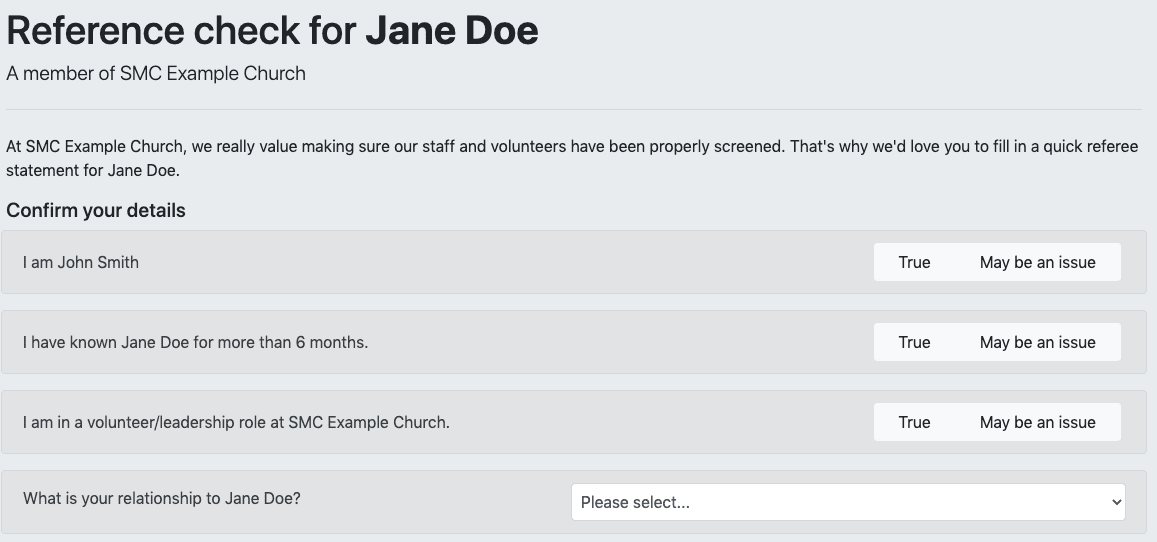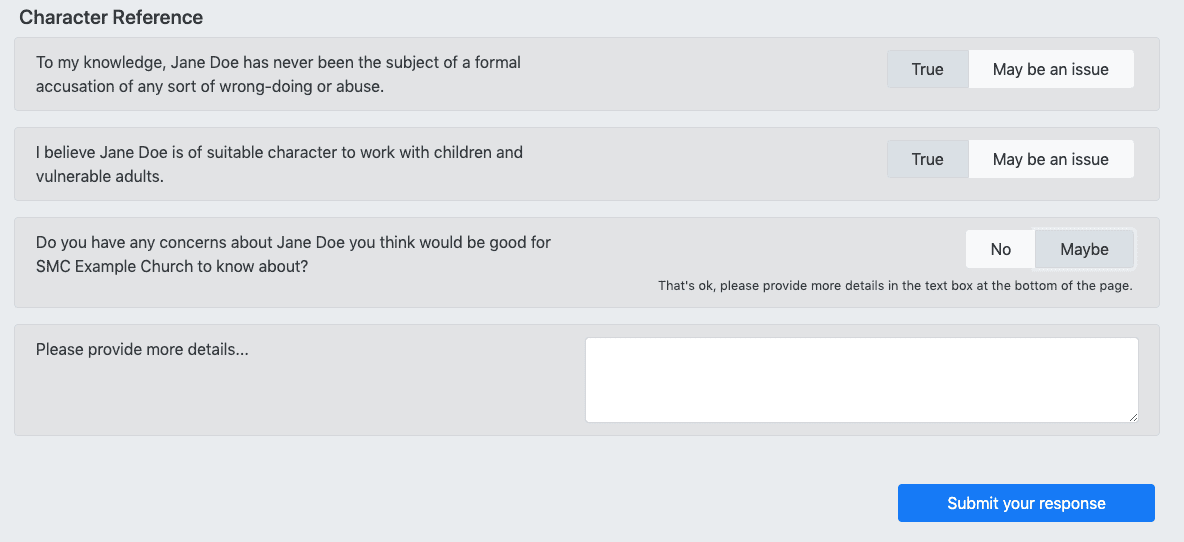 Selecting 'May be an issue' or 'Maybe' will trigger a comment box at the bottom for referees to indicate any concerns that they have.
Then, on the trainees profile you can view a summary of the referees response.

This means that you can determine whether or not it is necessary to follow up with the referee for more information. In this case, John being related to Jane makes him an invalid referee, and Jane will need to nominate another referee. The webform response has removed the need to contact John to find out his concern. 
Let's look at another example:

In this instance, you can see that John wanted to be transparent and has shared that Jane Doe was convicted of speeding in 2010. This is a long time in the past, isn't relevant to her role in kids church leading, and so admin can approve this reference. Again, this web-form response has saved the admin from needing to contact John. 
Changing the response from 'Pending admin approval' to 'Positive' will add a note to indicate that there was an issue flagged and admin has manually approved the reference.
You can still continue using the one-click referee option or you can switch to the new web-form easy response, whichever best suits your needs.
---
We hope these updates make it even easier for you to ensure you're keeping up with compliance and doing your bit to protect vulnerable people. We want to handle the training and checking for you so you can keep doing the ministry you love. We'd love to hear your feedback on these changes, just send us an email at support@safeministrycheck.com.au