Custom Settings for Member-Level Trainees
Here at Safe Ministry Check we're always looking for new and better ways to help you manage compliance. So we're excited to let you know about a new feature we've added to the Safe Ministry Check system.
Previously, anyone whose trainee type was set to 'Member' was required to complete the Awareness course, otherwise they would sit as pending. We realised that for some churches this clogged up their pending list as they didn't always require members to complete the Awareness Course. For other churches, they really valued being able to easily see who'd completed training. So, we've now made this a custom option in your Screening Settings!
This means that a member now appears as cleared regardless of whether they have completed any training. To require them to complete the Awareness Course, go to Settings > Screening Options. Then, under Safe Training Options, set the answer to the question: 'Require that 'Member' Type people complete Awareness training?' as 'Yes – members require training'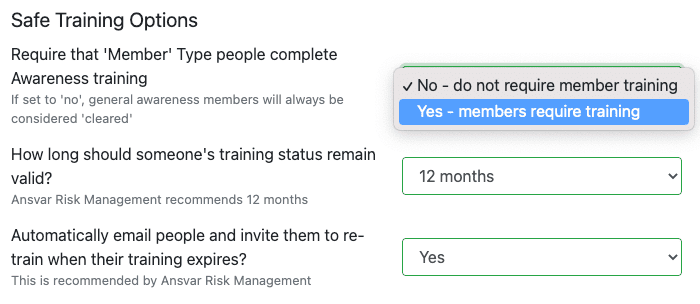 If you're not sure of the difference between different trainee types, head to our blog post on Trainee Types.
We hope this customisation option makes it even easier to keep your people trained and checked.
If you'd like assistance, please don't hesitate to reach out to our friendly team! We'd love to help you.